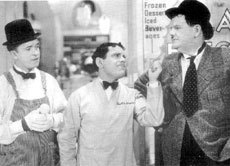 Courtesy of Chris Jaunsen.
Chris writes...
As the most frequent co-star in the L&H canon, Charlie Hall deserves a lot of attention in his own right. In the constitution for The Sons of the Desert society, he is to be toasted fourth along with Mae Busch after Stan, Babe and Fin. To quote Charlie, "This is more than I can stand!"
People usually associate "The Little Menace" (as Hal Roach referred to him) as a great nemesis for L&H in films like Laughing Gravy and Tit for Tat. More often than not, he simply appeared as a regular and innocuous citizen inhabiting the same world as L&H. From split second cameos to co-starring roles, Charlie always got full value out of his screen-time whether he played a waiter, a soda jerk, a thug, an onlooker of destruction to property, a deliveryman of any kind, or my personal favorite, an ice cream salesman! When sound films came in, there was speculation that people would wonder why two British actors were appearing in the same American film, but there was no need to worry when Hall's vocal inflections would often prove to be truly hilarious.
In compiling this video, it was difficult to imagine how I could include every single appearance in YouTube's 11 minute limit while still finding time for laughs, so I aimed for a happy medium where certain cameos would be shown very briefly in order to spend a little more time with his heavier roles. Most of the 47 appearances I knew by heart but a few took a lot of research (and a couple "roles" are really cheats -- Charlie is only visible in long-shot for The Second Hundred Years so a still was necessary). Viewers will note that I could not identify him in 2 films he is credited for: Babes in Toyland (is he one of the horn-blowers introducing the king?) and Bonnie Scotland (he is credited as a "native henchman" so it is doubtful he will be recognized under all that makeup). Most of the research besides inspecting the films themselves involved the McCabe/Kilgore/Bann "L&H Bible," and is also where the number 47 originated which in itself is up to debate. I have included Charlie's appearance in the Spanish version of Chickens Come Home as an elevator boy (a role Ham Kinsey played in the original), but since 47 has been the number used for so long there is no sense in changing it. For further reading, a great article for his early appearance in With Love and Hisses appears on a website called The Wax Apple.